Today I have two brand new Jindies for you. These will be launched tomorrow, 5th of April along with my collaboration polish
Pink Stilettos
and
Bonnie & Clyde duo
, collaboration with Dollish Polish. Exact time hasn't been announced so keep watching Jindie Nails
FB page
and
IG
for more info on tomorrow's launch.
***Edit*** Launch time is at noon central US time zone on Sat 5th of April and international shipping is available!
First we have Wifey Material
"It is made with a multichrome pigment, linear holographic pigment, flecks of real silver and a bit of silver shimmer. Application is great and this is opaque in about 2 coats! This polish shifts from baby blue to violet, to red tones"
.
This polish is just gorgeous and it sparkles like a rainbow in sunlight. This was two easy coats with HK Girl top coat. Application was nice and smooth and two coats was enough for perfectly opaque result.
Photo taken with daylight bulbs.
Photo taken with daylight bulbs.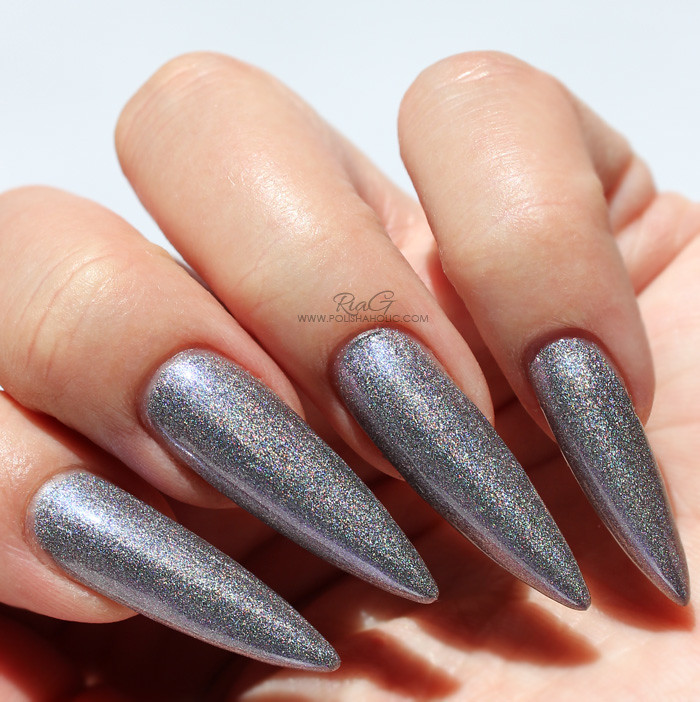 Photo taken in direct sunlight.
Macro taken in direct sunlight. This is intentionally blurry to show you the beautiful rainbow sparkle.
Another new polish released tomorrow is Re-Fresh to Death. This name cracks me up :D I don't actually know the story behind the name but it reminds me of the little sin most of us indie polish lovers have most likely committed during a crazy restock, obsessive refreshing of the page when the restock is about to happen ;)
"Re-Fresh to Death has a white crelly (cream/jelly) base loaded with small, metallic hexagons in sapphire blue, lilac, periwinkle, magenta, mauve, lavender & dark purple". Surprise, surprise! I love this one too! :P Re-Fresh to Death is so packed with glitter and still very easy to apply. Crelly base is just perfect and creates a lovely sandwich effect. Glitter came out of the bottle very easily, no extra tricks needed. Two coats was enough for opaque result and I used one coat of HK Girl top coat to smooth the surface.
So these will launch at
Jindie Nails
website tomorrow 5th of April with the previously mentioned new releases. International shipping will be available.
See anything you like? I know I'll be there trying to get one of those limited edition Bonnie & Clyde duos!
* * * * *
Tässä kaksi uutta Jindie Nails lakkaa jotka tulevat myyntiin huomenna 5. huhtikuuta. Tarkkaa aikaa ei ole vielä julkistettu, joten kannattaa pitää silmällä Jindie Nailsin
FB sivua
sekä
Instagramia
lisätietojen suhteen. Näiden kanssa samaan aikaan julkaistaan myös minun ja Jindie Nailsin yhteistyölakka Pink Stilettos sekä upea limited edition duo Bonnie & Clyde, joka on tehty yhteistyössä Dollish Polishin kanssa.
Eli aika herkkuja on huomenna tarjolla
Jindie Nailsin kaupassa
. Myös kansainvälinen postitus on nyt saatavilla, joten kaikilla on näitä mahdollista tilata. Itse odotan hiirisormi väpättäen tuota Bonnie & Clyde duoa.
***Edit*** Lakat tulevat myyntiin huomenna lauantaina 5. huhtikuuta klo 20.00 suomen aikaa.
***These were sent for review. I don't benefit from clicking any of the links on this post. /

Lakat saatu ilmaiseksi. En hyödy mitenkään linkkien klikkauksista.
* * * * *
FOLLOW ME