Today I have a brand new
Delush Polish
pretty for you. This is Glam Squad from the Nue Collection. My newest order of Delushies arrived yesterday and I just had to wear this one right away and naturally I wanted to you guys too :D
A stunning metallic red. I love this! Excellent application and almost a one coater for me. Dry time was also quick. This didn't stain my cuticles on clean up. Other than that the jury is still out cos I'm still wearing this manicure :D I'll update the wear time and other information here in a few days.
For this manicure I used a coat of Sally Hansen Nail Rehab, a coat of Glisten & Glow Stuck On Blu!, two coats of Glam Squad and HK Girl top coat.
The icy details were made using a fine nail art brush and Dance Legend Mountain Snow white texture polish.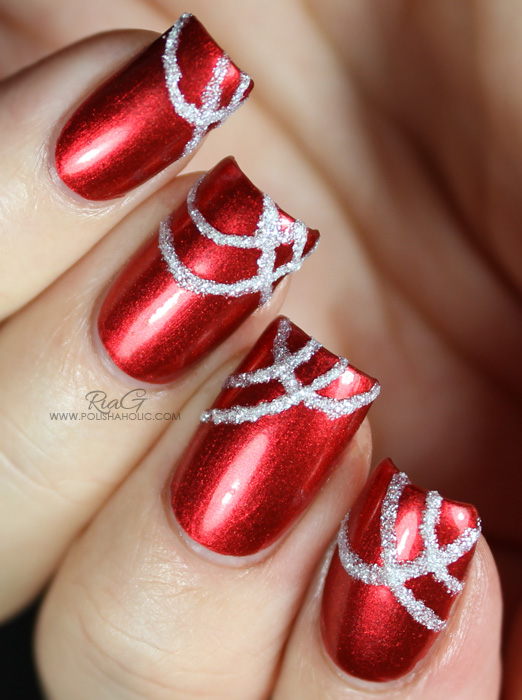 Jouluisissa tunnelmissa mennään edelleen ja tänään vuorossa ihan uutta
Delush Polishia
Nue kokoelman Glam Squad lakan muodossa. Lakkatilaus saapui eilen postilaatikkoon ja heti oli pakko päästä lakkaamaan tällä ja näyttämään se teillekin :D
Tämä on häikäisevän upea metallinpunainen. Erinomainen levittää ja yksi kerros melkein riitti minun kynsilleni eli pigmenttiäkin on reilusti. Nopea kuivumaan ja ei sutannut siistiessä kynsinauhoja. Pysyvyydestä ja kynsien värjääntymisestä en sano vielä mitään sillä tämä lakkaus on edelleen kynsilläni. Päivittelen näitä tietoja tähän postaukseen sitten lähipäivinä.
Tähän manikyyriin käytin kerroksen Sally Hansen Nail Rehabia, kerroksen Glisten & Glow Stuck On Blu! aluslakkaa, kaksi kerrosta Glam Squadia ja lopuksi HK Girl pikakuivattaja.
Jäiset koristelut on tehty pientä nail art sivellintä käyttäen Dance Legendin valkoisella Mountain Snow tekstuurilakalla.